Ascender Recap [November 9, 2022]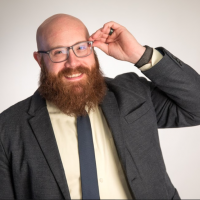 Joe Huber
Member [Pro], Administrator
Posts: 163
Here are some highlights from the past week in Ascender.
Join us next Wednesday, November 16, 2022 at 12 pm Eastern for Ascender Live
Jim "Pouli" Pouliopoulos will join us to lead a discussion around advice for young sales people, what to look for when looking for new roles, and the impact of positive thinking for salespeople. We'd love to see you there and encourage you to invite any young sales professionals you know since this event is open to the public! You can add the event directly to your calendar by clicking here.
Ascender referral program
Did you know that Ascender has a referral program? Under your Ascender profile (click on your avatar in the upper right of Ascender), click on "Refer a Friend" and we'll automatically copy your referral URL to your computer's clipboard. Send that code to a friend and if five friends become subscribers by the end of 2022, then you'll get your next year's renewal subscription of Ascender for free.
Breaking into new accounts: Four things to do before you reach out
This article has tips on things you can do to help make an impression on a new account. Check it out for actionable tips!
What courses do you want to see? Let us know!
Head of Product, Julie Leonard, wants to hear from YOU! What are some courses that you'd like to see? What can we offer to help you elevate yourself in the sales discipline? Let us know in the comments of this post or in the Discussions for Enroll forum.
November's Curriculum of the Month
Our course of the month, selected by Head of Learning, Brady Locher, is the Sales Fundamentals: Objection Handling course. As our first of seven courses in the Sales Fundamentals series, Objection Handling will discuss a range of strategies for dealing with objections from potential customers and their gatekeepers. You won't succeed if you can't negotiate the obstacles!
When did it click?
This community post from @Robert Smart has a few responses, but could use some more insights. Please share your experiences and let us know when things started to make more sense that sales was the career for you.
Champion Letter
This community post from @Vijinder Mahadew has an answer from @Rachel Clapp Miller, but we'd love to hear from you! When do you use the Champion Letter? How do you use it most effectively? Do you have a specific win that you can share? Let us know!
Tagged: