Ascender Spotlight on Luke Page - September, 2022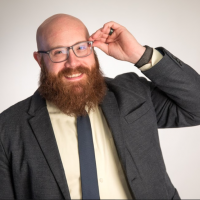 Joe Huber
Member [Pro], Administrator
Posts: 163
In an effort to foster connection, we're introducing the monthly Ascender Spotlight. We'll spotlight and learn more about an Ascender with their answers to some questions. This month, we're meeting @Luke Page! Here's a bio that Luke shared with us!
Hey Ascender community! Great to be here and eager to learn more from everyone. I was raised in a town right outside of Dallas and attended the University of Oklahoma for college (Boomer Sooner ☝️). I knew going to school I wanted to pursue a career in software sales, so I decided to double major in Entrepreneurship and Management Information Systems. After graduating in December of 2019, I got my first job at a contact center during the height of Covid. Since then, I joined Automation Anywhere as a Commercial AE helping build out the velocity sales program for a little over a year, and am now at a series A startup called Robocorp who takes a completely new approach to Robotic Process Automation development and orchestration.
We're so appreciative of Luke jumping in with both feet, here. It's our first ever spotlight and he shared a lot of great insights. Jump in the comments and welcome Luke to the Spotlight. Let's hear it from Luke!
What's your industry?
Software
What is the best advice you've gotten so far?
Always go do something that's new or broken.
How do you reward yourself for your successes?
I love to go grab food + drinks with friends at a new place! I think successes should be shared and celebrated with others.
How do you deal with rejection?
Stay positive and move on, attitude is always in your control. I examine the context of the specific instance of rejection and come to terms with what was in my control v. what wasn't. If there's a lesson to learn I take note and move on.
What is a sales trend you're seeing now and how can others take advantage?
I'm still learning a lot in this area as I have not been in the space very long, but I've been focusing in on value selling and how to communicate what matters most to customers. Especially with how many SaaS players there are in this space, companies need to have a clear differentiator in the outcomes you drive v. the competition. I've learned the hard way, if you don't understand exactly the value your customer needs out of your product, you're rolling the dice on closing your deals. I think this is a skill that every great salesperson has - identifying what is important, communicating the value, and driving the deal to close on your timeline using the value they're missing out on.
What do you do for fun?
I love getting outside (when it's not boiling here in Texas😉) by going for a run, rock climbing, or hanging out at a brewery with some friends.
What's one thing you want everyone to know about you?
I love getting to know new people and talking about trends in technology! I enjoy learning from other people and hearing about what others are passionate about.
Thank you again to Luke!
If you would like to be featured in an Ascender Spotlight, please contact Joe Huber or email us at [email protected]!
Tagged:
Comments