Ascender Spotlight on Joey Devlin - December, 2022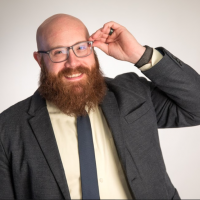 Joe Huber
Member [Pro], Administrator
Posts: 163
The Ascender Spotlight is a way for us to highlight our amazing members! This month, we're introducing you all to @Joseph Devlin. Here's his bio in his own words:
I began my career in corporate finance before transitioning into advertising. Having worked as a media buyer for the past 4 years across multiple industries, I recently made the transition to sales.
What's your industry?
Advertising.
What is the best advice you've gotten so far?
Focus on what you can control in the sales process.
How do you reward yourself for your successes?
I'll treat myself with something small like a book, dinner, or movie.
How do you deal with rejection?
I always try to remember there is usually a takeaway to help you next time.
If you had to pick a favorite letter from the MEDDICC acronym, what is it and why?
Currently C for Champion. It is cool to see how much people can enjoy and believe in your product.
What is a sales trend you're seeing now and how can others take advantage?
As it gets harder to get responses, personalization in prospecting for how you can help your customers is becoming more important.
What's your favorite sales story of yours so far?
While we ultimately lost the deal due to cost, I worked with some great champions who believed in our product over a competitors. It was a great feeling to see the value others can find in your product, and how far they are willing to make the case for you.
What do you do for fun?
I enjoy swimming, running, dancing, reading and listening to podcasts.
What's one thing you want everyone to know about you?
I am always curious and looking to learn from others. Always open to talk!
What's your favorite thing about Ascender so far?
I enjoy the library of content that I can reference throughout different parts of the sales process as well as how to deal with problems I am facing in getting the deal closed.
Thank you again to Joey!
If you would like to be featured in an Ascender Spotlight, please contact Joe Huber or email us at [email protected]!
Tagged: