Navigating Ascender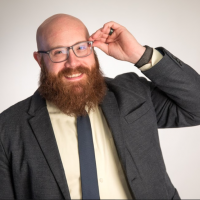 Joe Huber
Member [Pro], Administrator
Posts: 162
If this is your first time here, welcome!
This post is all about helping you get set up in Ascender so you can best leverage the community, content, and curriculum that you're here for. Joining a new community can feel overwhelming. There are forums, groups, people, and lots of content to dig into. There's also a video at the bottom of this post that you saw during onboarding for a quick, less detailed overview.
We're here to tell you to take a deep breath and join discussions at your own pace. If something feels overwhelming, take a breather. We'll be here for you when you're ready!
Explore
The Explore tab is all about content. We're creating new content that's relevant to you and you can comment on how it's helping you there. We also have a discussions page around the Explore tab for you where you can highlight your takeaways and share things you're finding helpful.
Enroll
The Enroll tab is where you'll find courses and curriculum to help you advance your skills. Available here are all of our courses, certifications, and lessons. We also have a discussions page around the Enroll tab for you where you can highlight how you're using the curriculum in your day-to-day and what you're finding most helpful.
Engage
The Engage tab is where you are right now. This is the Ascender community and it's where you'll be able to learn, connect, and grow with other salespeople looking to level up. Even if you're already elite, this is a space for you to find tips and tricks while also sharing your knowledge and networking with other top salespeople.
Defining the community for you
To help you get around, we'll share some definitions and things for you to dive right into.
Discussions
Discussions are any post made in a forum or a group. These should fit with the theme of the area where you're posting. Be sure to follow our guidelines when creating or joining in a discussion.
Forums
Forums are categories for discussions and will allow us to keep things on topic. The forums are:
Networking & Connection
This forum is the place for members to introduce themselves and meet one another. Introduce yourself by sharing your name, title, industry, goals we can help you achieve, what your hobbies are, and one thing you want to get out of being an Ascender. Comment on other introductions and meet up with one another! This community is as strong as we make it!
Pro tip: Create a discussion and make an introduction post so other people can see what you're all about (Example and template here). Comment on 1-3 other posts and search for other people with similar interests!
Discussions for Explore
This is where we'll discuss the content we share on Ascender that's designed to help take you to the next level. You can share articles or videos here that you find interesting, as well. You can find more content in the Explore tab, above.
Discussions for Enroll
We offer a deep library of learning, education, and certification. This is a place for you to share how you're using that with others that might be going through the same courses. Tell us how you've implemented and used your learning in real life. You can find more courses available in the Enroll tab, above.
Peer Assist
Ascenders know better than anyone else what other Ascenders are going through. This space is designed for you to ask others on specific sales deals with any issues or breakthroughs you might have. Share your wins as often as your struggles. Elite is earned, but nobody said you have to do it alone.
Ascender Support
This is the place for you to ask Team Ascender questions about the platform. If you want to learn about a course, troubleshoot, get support, or learn how to use anything Ascender related, you're in the right spot.
Ascender Announcements
This category is for Team Ascender to share announcements with you about community happenings, new things happening in Ascender, how to use the space to your advantage, and more!
Groups
Groups are a collection of people that are looking to network together or meet others with similar interests. Ascender will create groups based on activities we're seeing. Some groups are private, but don't worry! You can apply or you'll be invited to those. The public groups are:
Ascender Book Club
This group will have a monthly book shared to the group that we all agree to read and share our take on it. We will host a live Zoom hangout for discussion and also a post designated for feedback in case anyone can't make the hangout.
Roleplay Center
This group is for anyone looking for a sales roleplay partner. You will be able to have open conversations about the specifics of the scenarios in this group and will be responsible for setting up your own roleplay conversations.
Groups Pro tip: Want a group that doesn't exist? Tell us about it in Ascender Support! Let us know what you're looking for, why you think others would be interested, and what kind of events or content you'd like if we did create it!
Profiles
Your profile is where you can upload a picture and adjust your notifications settings. We suggest that you make it so that you're only notified when you want to be, otherwise it can feel overwhelming or "spammy".
You'll also see Badges in your profile. As you participate in Ascender, you'll start to see badges awarded and can showcase your hard work!
Tags
On every Discussion, you'll be able to add tags that we've created throughout Ascender to help you find relevant content, regardless of Forum or Groups.
Badges
Badges are awards that you earn through activity. Commenting, creating discussions, completing courses, and more can lead to earning badges!
Search
If at any time you're stuck and looking for something, you can always click the magnifying glass icon above (or click here) to search!
A Brief Video Walkthrough of Ascender
Tagged: